Castle Siege: War of Legends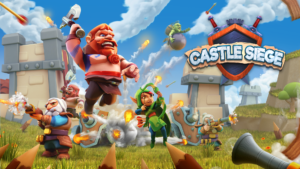 Castle Siege: War of Legends is a Clash Royale-style strategic duel game (although it's more similar to Castle Crush), where you can battle against other players from around the world in thrilling real-time battles.
The gameplay in Castle Siege: War of Legends will feel familiar to anyone who's ever played a game like this on Android before. The goal is to destroy your opponent's central tower or, at least, destroy more of your rival's towers by the time the three minutes of the game have ended. And to do this, you need to use your troops, represented by cards.
At your disposal, you'll find a few dozen different cards, with units specialized in long-range combat, units that use hand to hand combat, spells for air attacks, etc. As usual, you can also use coins to improve the attributes of each card. You'll find both the coins and the fragments to improve the cards, inside the chests. Sounds familiar, right?
Castle Siege: War of Legends is an entertaining strategic duel game that offers a similar game experience to the aforementioned Castle Crush. The game also offers plenty of different cards to collect and had nice graphics, to boot.